Importance of Soft Skills, US/UK Accent, Etiquette, & communication
The majority takes their Soft Skills, Accent, and their communication skills for granted, but to be an exceptional orator you have to absorb and practice certain life skills and behavior traits on daily basis to make it sharp and persuasive. DEneeraj Multi- lingual services® (DMS) offers Soft Skills, US/UK Accent, Etiquette, & communication online courses, over the phone training, private sessions.
Boss in the Boardroom
All course are customized to address the need and challenges of an individual   and based on the result oriented structure and sequence.  At  DEneeraj Multi- lingual services® (DMS) Soft Skills, U/UK Accent, Etiquette, and communication skills Workshops and individual programs are scheduled to support you to connect better and effective because Communiqué is vital; effective communication is the boss in the boardroom. Join NOW our The Perfect Leadership Program (PLP).
Be exceptional communicator
In our workshops and programs, you will learn Soft Skills, U/UK Accent, Etiquette, Empowering body language, writing skills, and communication skills.
How to learn and sustain in the real short span of time these skills, you need a coach and constant practice. This is all about connecting with people and their desire to motivate others is the groundwork for an effective communicator. Your resolve to beat all the odds is your single greatest determination you can have to be a great orator and public speaker.
Body, Voice, and Accent
Accomplishment in your chosen field necessitates a focused effort with right coach and coaching.  Use language flair with behavior grace that is noticeably your own. Let your messages come through in your body, voice, and accent. Learn our specifically designed Voice Acting course, Voicing Workshop and Voice over Training can not only help you gain much-needed confidence but also support you to get a very promising career.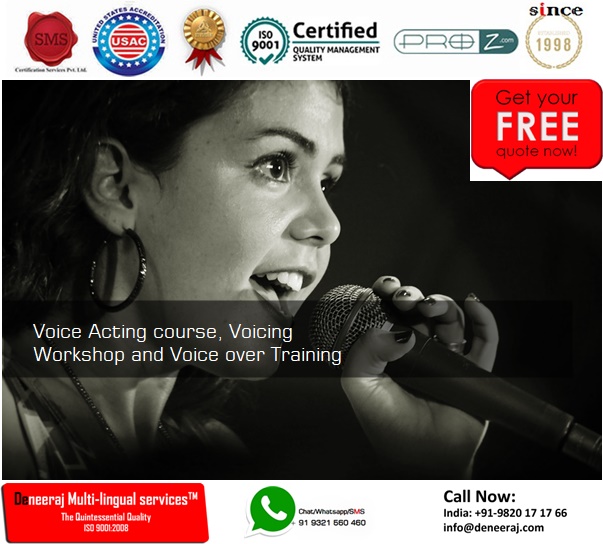 Contact us now for a FREE consultation and friendly Feedback! All the feedback is completely confidential.
The phone consultation consists of an in-depth conversation. To schedule your initial assessment and goal-setting session online today. Discover our online Courses, by phone training & Webinars as per your level
To Understand your idiosyncratic learning style please come and join our online test and FREE 45 -minute language/accent assessment individual sessions online (skype & Telephone) from Noida, Mumbai, Delhi, Kolkata, Bangalore, and Mumbai India.
INFORMATION OVERLOAD
Although e-learning is the fastest way to be coached, it is face-to-face sessions and telephone voice-to-voice communication courses.  Connect to communicate effectively online and in person at selected locations only.
Call us on Please call 805 244 2444 (India) and 9820171766 (from abroad); a free telephone consultation to discuss Telephone Training for you, your colleagues or team, or email info@deneeraj.com to discover more about how DMS can help you to achieve your effective communication objectives.