US & UK Accent Courses, Online Sessions, Voice & Accent Training in Surat
Our customized US Accent courses and Accent Reduction Training are aimed to address the different aspects of Standard American English. The perfect Accent has a foremost role in deciding the influence any effective and engaging communication has on its intended audience. At DEneeraj Multi- lingual services® (DMS) US/UK Accent courses, Voice Modulation and Accent Reduction Training in Surat; One On One Online, Over the Phone & In Person, we stress on your complete learning experience of Standard American English (SAE). Helping you to acquire Standard American Accent and we will also support you to sustain the newly acquired accent for the life. Our Storytelling in Surat will take it up a Notch with Online, On the Phone & in Person.
Call Us Now: +91 (0) 9820 1717 66 & Chat Whatsapp At +91 (0) 9321 560 460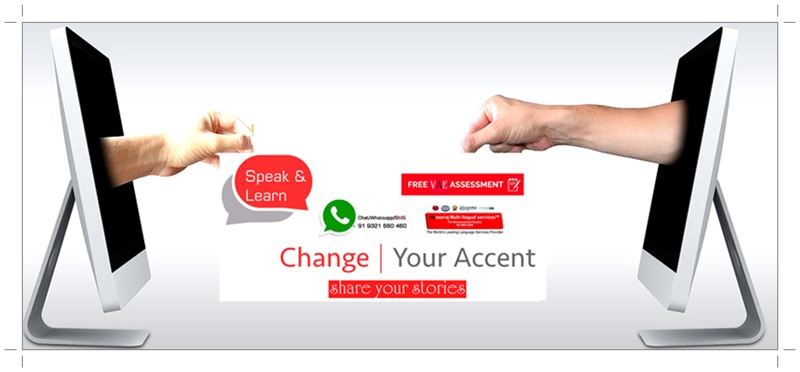 British English on the Phone Course in Surat
We are fervent about English language in general and accents in particular. We don't just train through cutting-edge learning approaches; we ensure Accent softening and gradually acquiring British Accent. DEneeraj Multi- lingual services® (DMS) Teaching techniques are Eclectic, Enjoyable and Easy and build on evidence-based systems and methods. Our Intercultural training in surat address and set short-term intercultural competence.
1:1 Training Online Session via Skype
Register now and upgrade your existing skills with the DEneeraj Multi- lingual services® (DMS) Excellence Assured
Why select DEneeraj Multi- lingual services® (DMS) training Programs?
Hundreds of learners from all over the world with different languages and dialects have benefited from these training Programs. These are personalized to make the learning process practical and highly interactive with insightful responses– this is why we offer mostly One-to-One or individual courses. We at DEneeraj Multi- lingual services® (DMS) aim to provide best possible Communication Courses in Surat you with the best possible results so that your investment can be worth it.
Communication Courses Outline:
Exact course content may vary according to the course duration and your objectives but focused areas covered normally include:
Rigorous practice of intonations, Pronunciations & Diction
Techniques for adapting new accent for the global audiences
Develop And Improve Public Speaking & Presentation Skills
all aspects of Standard American English(SAE) learning
You'll receive continued and constructive feedback throughout the course.
Soft –Skills, Business Etiquette, Manners and Protocol Training in Surat
We provide top quality Soft –Skills Training for corporate organizations and individuals. So select also some super cool Soft skills and Etiquette Training programs in Surat. And we would like to enhance here that you have to have the Finest Soft skills Training to support newly acquired Standard Accents. Our Voice-over and Diction Training in surat would enrich your aptitude to connect with and inspire others. Our specifically designed Personality Development Training Courses in Surat will help you to find your calling and enhancing your individual's personality.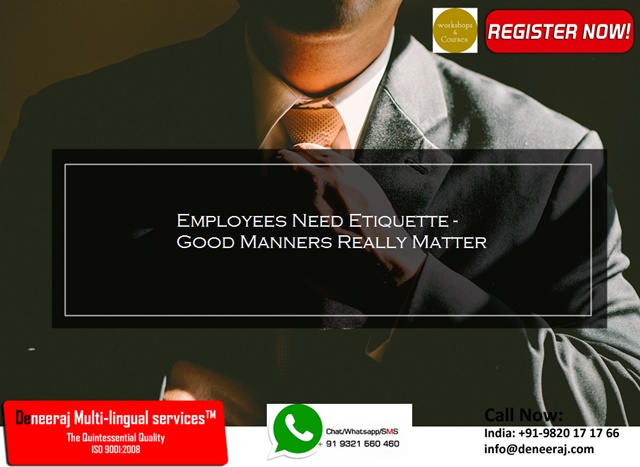 Learn Online and on Your Mobile
Book your Free & Friendly 20 minute phone consultation
Call us NOW on 0 9820 17 17 66 Monday-Sunday between 8am-8pm.
By the end of this course you will:
Communicate Effectively with confidence
Improve your Accent & Eloquence
Develop & Enhance Your Soft Skills
Processing Of Collocations
Use culture to help you communicate appropriately
Cultivates a Global Fineness; through Body Language, Etiquette, Manners and protocols
Know statements, questions and responses for different settings and situations
Develop flawless communication skills in personal as well as professional settings
How to Establish & Maintain Good professional & Personal Relationships
Still Have Queries ,WhatsApp at +91 (0) 9321 560 460
Call NOW for Engaging Phone Conversation & Discover The Wining Power of Friendly Evaluation!
Accomplishment Stories from our Learner
"The team DEneeraj has been a source of intellectual enhancement and applied specialized development for my studies, their passion for different languages is so admirable. Very lucky to have them as a mentor…"-Vinay Shah
Contact us now for a FREE Accent Assessment!